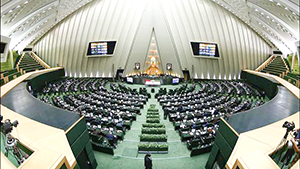 TEHRAN (Dispatches) -- Iran's lawmakers on Sunday overwhelmingly approved a motion in response to recent U.S. sanctions, voting to boost spending on Tehran's missile program and the Islamic Revolution Guards Corps (IRGC).
In a session, 240 lawmakers voted for the bill, with only one abstention, to confront "America's terrorist and adventurous actions" in the region.
The measure came after President Donald Trump signed into law a bill passed by U.S. Congress to impose new sanctions on Iran over its missile program in early August.
Washington's new sanctions violate a 2015 nuclear deal with Iran both "in letter and spirit." Tehran says its missile program does not breach a UN resolution which endorsed the nuclear deal.
Devising the Sunday motion, the Parliament took great care not to violate the nuclear accord and provide excuses for opposing sides, spokesman for Parliament's Committee on National Security and Foreign Policy Hussein Naqavi Husseini said.
The plan would require Iran's government and armed forces to draw up a strategy to counter U.S. violations of human rights around the world, and to support Iranian bodies and individuals affected by U.S. sanctions.
The measure would also allocate over $260 million each to Iran's ballistic missile program and the Quds Force - the external arm of the Islamic Revolution Guards Corps (IRGC), which has sent military advisers to Iraq and Syria to fight terrorists.
Deputy Foreign Minister Abbas Araqchi, who is the head of an Iranian commission tasked with monitoring the agreement's implementation, told MPs that the government backed the bill which he described as "very strong."
He said Iran has many devices at its disposal apart from the nuclear agreement to confront the United States.
The motion was designed in view of continued bellicose policies of the U.S. towards Iran, and its persisting measures aimed at endangering peace and security in the region, it said.
It also took into account America's enmity towards the Iranian government and people and their interests through supporting terrorism and violent extremism, as well as taking adventurous actions, creating divisions, and stoking sectarianism.
The bill tasks Foreign, Intelligence, and Defense Ministries, Iran's Army, and the IRGC, and its Quds Force to produce a comprehensive strategy aimed at countering U.S. threats.
It considers the entirety of the U.S. military forces and intelligence operatives in the region to be supporters of regional terrorist groups, and subject to punitive measures.
The blacklisted individuals will be denied Iranian visas, their assets will be frozen by Iran's Judiciary, and their bank accounts blocked by its Ministry of Economy.
A parliamentary committee is also tasked with monitoring U.S. government and congressional moves and proposing appropriate reciprocal measures to the Parliament.
To counter U.S. economic sanctions, the government has been ordered to provide a comprehensive plan on expanding economic
(Continued on Page 7)